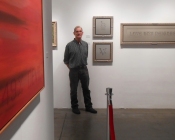 Bruce Richards
Has received a Fellowship from the National Endowment for the Arts (1976),
First Award, 8th National Print Exhibition ( Ed Ruscha, juror), Los Angeles Print Society (1984),
Print Commission, LACMA Graphics Arts Council ( 1992)
Individual Artist Grants in Painting from the City of Los Angeles (COLA, 1997) and the California Arts Council (1998).
He has had numerous solo exhibitions in California and participated in group exhibitions at the Museum of Modern Art, New York, Milan, Italy and Sezon Museum,Tokyo, Japan.
He has work in the public collections of the Grunwald Center for the Graphic Arts, Laguna Beach Museum of Art, Long Beach Museum of Art,San Diego Museum of Contemporary Art, Los Angeles County Museum of Art, San Francisco Museum of Modern Art and numerous private and corporate collections.
In 2002 he moved from Los Angeles to Dobbs Ferry, NY to join his wife and renovate the old Village Library ( 1909 - 2002) into a working studio and living space.